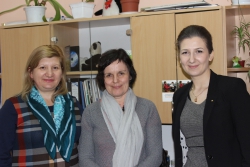 January 2015
CIC SocioPolis was visited by the international expert P. Winnete
Within January 25th-30th, CIC SocioPolis was visited by the international expert P. Winnete within the framework of the project "Strengthening qualification of people providing social services to children and youth at risk from the Republic of Moldova", funded by the Czech Development Agency and implemented in collaboration with Caritas Czech Republic and the Ministry of Labour, Social Protection and Family (MLSPF) from the Republic of Moldova.
During her visit, the expert get acquainted with services provided to children and youth at risk from the municipality of Chişinău and discussed with specialists about issues they face in providing these services. Meetings held with representatives of the MLSPF, the Municipal Center for the placement and rehabilitation of children of an early age, Placement Center "Regina Pacis", Community Center for children and youth "Atlant", allowed the identification of the specific needs service providers face in activities conducted with children. Mrs. Winnete also visited services providing Professional Parental Assistance and Family Type Community Homes from the rayons Floreşti and Ungheni.
International expert's visit will be followed by the implementation of the study approaching the needs of specialists providing social services to children at risk and the development of a course support on their continuous training.